Profile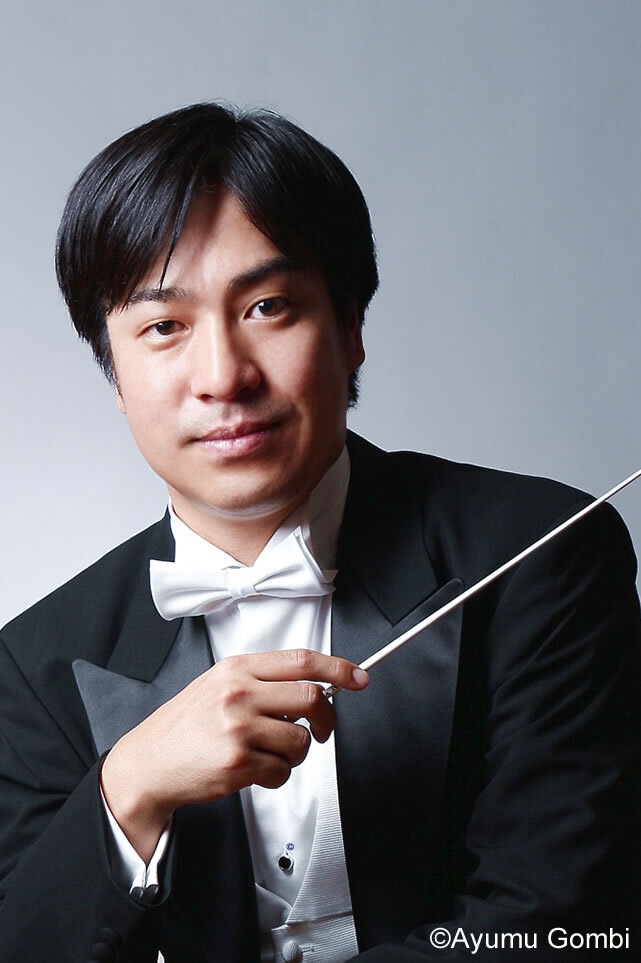 井田 勝大
鳥取県生まれ。東京学芸大学音楽科卒業、同大学院修了。2003年から来日オペラ団体の公演に制作助手として携わり、ミラノ・スカラ座、ウィーン国立歌劇場、バイエルン国立歌劇場、東京のオペラの森などで小澤征爾、ズービン・メータのアシスタントを務める。2004年、江戸開府400年記念東京文化会館事業「あさくさ天使」に副指揮者として参加。
2007年、東京バレエ団『ドナウの娘』日本初演にあたり指揮者アシスタントとして楽譜の修正を含め大きな役割を果たす。2007年11月、Kバレエ カンパニー『白鳥の湖』公演でデビュー。以降、Kバレエカンパニーの多くの公演を指揮するほか、東京バレエ団、新国立劇場バレエ団、東京シティ・バレエ団、谷桃子バレエ団、ウィーン国立バレエ団、ロシア国立モスクワ・クラシックバレエ団等、国内外のバレエ公演を指揮。2018年4月にはNHK『バレエの饗宴』で指揮を務めている。
また、音楽制作ではKバレエユース「トム・ソーヤの冒険」、Kバレエカンパニー「カルメン」「クレオパトラ」において選曲、編曲を担当している。2009年4月、CD「熊川哲也のくるみ割り人形」をリリース。オーケストラとは東京フィルハーモニー交響楽団や東京交響楽団、日本センチュリー交響楽団、東京シティ・フィルハーモニック管弦楽団、広島交響楽団、九州交響楽団などと共演。その他、アマチュアを含め多数のオーケストラや合唱団を指導している。
トランペットを田宮堅二、田中昭、山城宏樹に、指揮法を山本訓久、高階正光に師事。
現在、シアター オーケストラ トーキョー指揮者。エリザベト音楽大学講師、桐朋学園大学特任講師。
KATSUHIRO IDA
Born in Tottori Prefecture, Katsuhiro Ida graduated from the Department of Music, Tokyo Gakugei University, and completed the Graduate School of Tokyo Gakugei University. From 2003, he worked as a production assistant for opera companies touring Japan, as well as working for Seiji Ozawa and Zubin Mehta to assist their opera performances at La Scala in Milan, Vienna State Opera, Bavarian State Opera, and the Opera no Mori in Tokyo. In 2004, Ida served as the assistant conductor for Asakusa Tenshi at the Tokyo Bunka Kaikan, which was a project to celebrate the 400th anniversary of the founding of the Tokugawa Shogunate. In 2007, he assumed a vital role as the assistant conductor for the Japanese premiere of La fille du Danube (The Daughter of the Danube) performed by the Tokyo Ballet Company, including the modification of the score. In November 2007, Katsuhiro Ida made his debut in K-Ballet Company's Swan Lake. After that, he conducts many performances of the K-Ballet Company, as well as the Tokyo Ballet Company, New National Theatre Ballet Company, Tokyo City Ballet Company, Tani Momoko Ballet Company, Vienna State Ballet Company, Russian National Moscow Classical Ballet Company, and many other ballet performances at home and abroad. Also, in April 2018 , Ida served as the conductor for NHK's Ballet Symposium.
As for music production, Katsuhiro Ida selected songs and arranged music for the Adventures of Tom Sawyer performed by the K-Ballet Youth Company, Carmen, and Cleopatra by the K-Ballet Company. In April 2009, Name released a CD album titled Tetsuya Kumakawa's The Nutcracker. He conducted orchestras, such as the Tokyo Philharmonic Orchestra, Tokyo Symphony Orchestra, Japan Century Symphony Orchestra, Tokyo City Philharmonic Orchestra, Hiroshima Symphony Orchestra, and the Kyushu Symphony Orchestra. He also instructs many professional and amateur orchestras and choirs.
He studied trumpet under Kenji Tamiya, Akira Tanaka, and Hiroki Yamashiro and conducting techniques under Norihisa Yamamoto and Masamitsu Takashina. Today, Katsuhiro Ida is the conductor for the Theater Orchestra Tokyo and serves as the instructor at the Elisabeth University of Music and a special instructor at the Toho Gakuen School of Music.